Table of contents
Volume 6, Issue 4, pp. 45 - 60, April 2022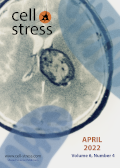 Cover: This month in
Cell Stress
: COX4-1 in mitochondrial supercomplex assembly. Image depicts cell with nucleus (blue) and mitochondria (green). Image credit: NICHD/U. Manor, via Flickr
CC BY 2.0 license
. Image modified by
Cell Stress
. The cover is published under the
CC BY 4.0 license
.
Enlarge issue cover
Research Articles
COX4-1 promotes mitochondrial supercomplex assembly and limits reactive oxide species production in radioresistant GBM
Claudia R. Oliva, Md Yousuf Ali, Susanne Flor and Corinne E. Griguer
page 45-57 | 10.15698/cst2022.04.266 | Full text | PDF | Abstract
Glioblastoma (GBM) is a fatal disease with recurrences often associated with radioresistance. Although often effective at treating newly diagnosed GBM, increasing evidence suggests that radiotherapy-induced alterations in tumor metabolism promote GBM recurrence and aggressiveness. Using isogenic radiosensitive and radioresistant GBM cell lines and patient-derived xenolines, we found that acquired radioresistance is associated with a shift from a glycolytic metabolism to a more oxidative metabolism marked by a substantial increase in the activity of the mitochondrial respiratory chain complex cytochrome c oxidase (CcO). This elevated CcO activity was associated with a switch in the isoform expression of the CcO regulatory subunit COX4, from COX4-2 to COX4-1, assembly of CcO-containing mitochondrial supercomplexes (SCs), and reduced superoxide (O2●-) production. Overexpression of COX4-1 in the radiosensitive cells was sufficient to promote the switch from glycolytic to oxidative metabolism and the incorporation of CcO into SCs, with a concomitant reduction in O2●- production. Conversely, silencing of COX4-1 expression in normally radioresistant cells reduced CcO activity, promoted the disassembly of mitochondrial SCs, and increased O2●- production. Additionally, gain or loss of COX4-1 expression was sufficient to induce the radioresistant or radiosensitive phenotype, respectively. Our results demonstrate that COX4-1 promotes SC assembly in GBM cells, and SC assembly may in turn regulate the production of reactive oxygen species and thus the acquisition of radioresistance in GBM.