Table of contents
Volume 4, Issue 11, pp. 252 - 264, November 2020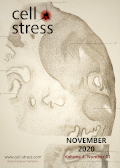 Cover: This month in
Cell Stress
: Uterine carcinosarcoma. Image depicts section through cervix from a patient in the 19th century. From: "On cancer of the uterus : being the Harveian Lectures for 1886" by John Williams. Image Credit:
Wellcome Collection
available under the the
CC BY 4.0 license
. Image modified by
Cell Stress
. The cover is published under the
CC BY 4.0 license
.
Enlarge issue cover
Research Articles
Targeting the TGFβ pathway in uterine carcinosarcoma
Shailendra Kumar Dhar Dwivedi, Geeta Rao, Anindya Dey, Megan Buechel, Yushan Zhang, Min Zhang, Da Yang, Priyabrata Mukherjee, Resham Bhattacharya
page 252-260 | 10.15698/cst2020.11.234 | Full text | PDF | Abstract
Uterine carcinosarcoma (UCS) is a relatively infrequent, but extremely aggressive endometrial malignancy. Although surgery and chemotherapy have improved outcomes, overall survival (OS) remains dismal due to the lack of targeted therapy and biphasic (epithelial and mesenchymal) nature that renders the tumor aggressive and difficult to manage. Here we report a role of transforming growth factor-β (TGFβ) in maintaining epithelial to mesenchymal transition (EMT) phenotype and aggressiveness in UCS. Using a 3D-culture system, we evaluated the efficacy of the transforming growth factor-β receptor-I (TGFβR1) kinase inhibitor Galunisertib (GLT), alone and in combination with standard chemotherapeutic drugs used for the management of UCS. We demonstrate that GLT by inhibiting canonical and non-canonical signaling emanating from transforming growth factor-β1 (TGFβ1) reduces cellular viability, invasion, clonal growth and differentiation. Interestingly, GLT sensitizes UCS cells to chemotherapy both in vitro and in in vivo preclinical tumor model. Hence, targeting TGFβ signaling, in combination with standard chemotherapy, may be exploited as an important strategy to manage the clinically challenging UCS.
Microreviews
A mutant p53/Hif1α/miR-30d axis reprograms the secretory pathway promoting the release of a prometastatic secretome
Valeria Capaci, Fiamma Mantovani and Giannino Del Sal
page 261-264 | 10.15698/cst2020.11.235 | Full text | PDF | Abstract
TP53 missense mutations are frequent driver events during tumorigenesis. The majority of TP53 mutations are missense and occur within the DNA binding domain of p53, leading to expression of mutant p53 (mut-p53) proteins that not only lose the tumor suppressive functions of the wild-type (wt-p53) form, but can also acquire novel oncogenic features fostering tumor growth, metastasis and chemoresistance. Mut-p53 affects fundamental cellular pathways and functions through different mechanisms, a major one being the alteration of gene expression. In our recent work (Capaci et al., 2020, Nat Commun) we found that mut-p53, via miR-30d, modifies structure and function of the Golgi apparatus (GA) and induces increased rate of trafficking. This culminates in the release of a pro-malignant secretome, which is capable of remodeling the tumor microenvironment (TME), to increase stiffness of the extracellular matrix (ECM), favouring metastatic colonization, as shown by cell-based assays and experiments of metastatic niche preconditioning in mouse xenograft models. This study provides new insights into the mechanisms by which mut-p53, through induction of non-coding RNAs, can exert pro-tumorigenic functions in a non-cell-autonomous fashion, and highlights potential non-invasive biomarkers and therapeutic targets to treat tumors harboring mut-p53 (Figure 1).