Table of contents
Volume 4, Issue 4, pp. 66 - 91, April 2020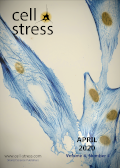 Cover: This month in
Cell Stress
: Prion-like domains in muscle and neuromuscular diseases. Image depicts muscle precursor cells (fibers blue, nuclei yellow). Credit: NICHD/J. Lippincott-Schwartz, licensed under a
CC BY 2.0 license
. Image modified by
Cell Stress
. The cover is published under the
CC BY 4.0 license
.
Enlarge issue cover
Editorial
Coronavirus infections: Epidemiological, clinical and immunological features and hypotheses
Didier Raoult, Alimuddin Zumla, Franco Locatelli, Giuseppe Ippolito and Guido Kroemer
page 66-74 | 10.15698/cst2020.04.216 | Full text | PDF | Abstract
Coronaviruses (CoVs) are a large family of enveloped, positive-strand RNA viruses. Four human CoVs (HCoVs), the non-severe acute respiratory syndrome (SARS)-like HCoVs (namely HCoV 229E, NL63, OC43, and HKU1), are globally endemic and account for a substantial fraction of upper respiratory tract infections. Non-SARS-like CoV can occasionally produce severe diseases in frail subjects but do not cause any major (fatal) epidemics. In contrast, SARS like CoVs (namely SARS-CoV and Middle-East respiratory syndrome coronavirus, MERS-CoV) can cause intense short-lived fatal outbreaks. The current epidemic caused by the highly contagious SARS-CoV-2 and its rapid spread globally is of major concern. There is scanty knowledge on the actual pandemic potential of this new SARS-like virus. It might be speculated that SARS-CoV-2 epidemic is grossly underdiagnosed and that the infection is silently spreading across the globe with two consequences: (i) clusters of severe infections among frail subjects could haphazardly occur linked to unrecognized index cases; (ii) the current epidemic could naturally fall into a low-level endemic phase when a significant number of subjects will have developed immunity. Understanding the role of paucisymptomatic subjects and stratifying patients according to the risk of developing severe clinical presentations is pivotal for implementing reasonable measures to contain the infection and to reduce its mortality. Whilst the future evolution of this epidemic remains unpredictable, classic public health strategies must follow rational patterns. The emergence of yet another global epidemic underscores the permanent challenges that infectious diseases pose and underscores the need for global cooperation and preparedness, even during inter-epidemic periods.
Reviews
Role of RNA Binding Proteins with prion-like domains in muscle and neuromuscular diseases
Gina Picchiarelli and Luc Dupuis
page 76-91 | 10.15698/cst2020.04.217 | Full text | PDF | Abstract
A number of neuromuscular and muscular diseases, including amyotrophic lateral sclerosis (ALS), spinal muscular atrophy (SMA) and several myopathies, are associated to mutations in related RNA-binding proteins (RBPs), including TDP-43, FUS, MATR3 or hnRNPA1/B2. These proteins harbor similar modular primary sequence with RNA binding motifs and low complexity domains, that enables them to phase separate and create liquid microdomains. These RBPs have been shown to critically regulate multiple events of RNA lifecycle, including transcriptional events, splicing and RNA trafficking and sequestration. Here, we review the roles of these disease-related RBPs in muscle and motor neurons, and how their dysfunction in these cell types might contribute to disease.