Table of contents
Volume 7, Issue 8, pp. 59 - 68, August 2023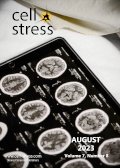 Cover: This month in
Cell Stress
: Non-immunogenic in vivo imaging of cancer metastases and immunotherapy response in mice. Photo by Tima Miroshnichenko via
pexels.com
. Image modified by
Cell Stress
. The cover is published under the
CC BY 4.0 license
.
Enlarge issue cover
Research Articles
Sensitive, non-immunogenic in vivo imaging of cancer metastases and immunotherapy response
Joseph R. Merrill, Alessandra Inguscio, Taemoon Chung, Breanna Demestichas, Libia Garcia, Jill Habel, David Y. Lewis, Tobias Janowitz and Scott K. Lyons
page 59-68 | 10.15698/cst2023.08.288 | Full text | PDF | Abstract
Non-invasive imaging of tumors expressing reporter transgenes is a popular preclinical method for studying tumor development and response to therapy in vivo due to its ability to distinguish signal from tumors over background noise. However, the utilized transgenes, such as firefly luciferase, are immu-nogenic and, therefore, impact results when expressed in immune-competent hosts. This represents an important limitation, given that cancer immunology and immunotherapy are currently among the most impactful areas of research and therapeutic development.
Here we present a non-immunogenic preclinical tumor imaging approach. Based on the expression of murine sodium iodide symporter (mNIS), it facilitates sensitive, non-invasive detection of syngeneic tumor cells in immune-competent tumor models without additional immunogenicity arising from exogenous transgenic protein or selection marker expression. NIS-expressing tumor cells internalize the gamma-emitting [99mTc]pertechnetate ion and so can be detected by SPECT (single photon emission computed tomography). Using a mouse model of pancreatic ductal adenocarcinoma hepatic metastases in immune-competent C57BL/6 mice, we demonstrate that the technique enables the detection of very early metastatic lesions and longitudinal assessment of immunotherapy responses using precise and quantifiable whole-body SPECT/CT imaging.