Current Issue:
Table of contents
Volume 6, Issue 5, pp. 61 - 64, May 2022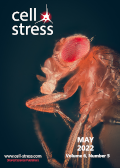 Cover: This month in
Cell Stress
: Laboratory models of Alzheimer's disease like
Drosophila melanogaster
reveal novel key players of neurodegeneration. Image Credit: Aleksandr Leljak. The cover is published under the
CC BY 4.0 license
.
Enlarge issue cover
Microreviews
A pathological role of the Hsp40 protein Ydj1/DnaJA1 in models of Alzheimer's disease
Jelena Tadic, Julia Ring, Andrea Jerkovic, Selena Ristic, Marta Maglione, Jörn Dengjel, Stephan J. Sigrist and Tobias Eisenberg
page 61-64 | 10.15698/cst2022.05.267 | Full text | PDF | Abstract
Alzheimer's disease (AD) is the most common form of dementia with millions of people affected worldwide. Pathophysiological manifestations of AD include the extracellular accumulation of amyloid beta (Abeta) peptides, products of the proteolytic cleavage of the amyloid precursor protein APP. Increasing evidence suggests that Abeta peptides also accumulate intracellularly, triggering neurotoxic events such as mitochondrial dysfunction. However, the molecular factors driving formation and toxicity of intracellular Abeta are poorly understood. In our recent study [EMBO Mol Med 2022 – e13952], we used different eukaryotic model systems to identify such factors. Based on a genetic screen in yeast and subsequent molecular analyses, we found that both the yeast chaperone Ydj1 and its human ortholog DnaJA1 physically interact with Abeta, facilitate the aggregation of Abeta peptides into small oligomers and promote their translocation to mitochondria. Deletion or downregulation of this chaperone protected from Abeta-mediated toxicity in yeast and Drosophila AD models, respectively. Most importantly, the identified chaperone is found to be dysregulated in post-mortem human samples of AD patients. Here, we aim to outline our key findings, highlighting pathological functions of a heat shock protein (Hsp) family member, which are generally considered protective rather than toxic during neurodegeneration. Our results thus challenge the concept of developing generalized chaperone activation-based therapies and call for carefully considering also maladaptive functions of specific heat shock proteins.