Table of contents
Volume 7, Issue 2, pp. 7 - 11, February 2023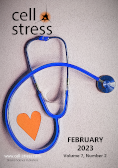 Cover: This month in
Cell Stress
: Mechanisms of chronic heart failure following hemorrhagic myocardial infarction. Photo by Karolina Grabowska via
pexels.com
. Image modified by
Cell Stress
. The cover is published under the
CC BY 4.0 license
.
Enlarge issue cover
Microreviews
Chronic heart failure following hemorrhagic myocardial infarction: mechanism, treatment and outlook
Shing Fai Chan, Keyur Vora and Rohan Dharmakumar
page 7-11 | 10.15698/cst2023.02.276 | Full text | PDF | Abstract
Myocardial infarction (MI), the blockage of arterial blood supply of the heart, is among the most common causes of death worldwide. Even when patients receive immediate treatment by re-opening blocked arteries, they often develop chronic heart failure (CHF) in the aftermath of MI events. Yet, the factors that contribute to the development of MI-associated CHF are poorly understood. In our recent study (Nat Commun 13:6394), we link intramyocardial hemorrhage, an injury which can occur during reperfusion of areas affected by MI, to an increased risk of CHF. Mechanistically, our data suggest that an iron-induced adverse cascade of events after hemorrhagic MI drives fatty degeneration of infarcted tissue, which ultimately contributes to negative cardiac remodeling. In this Microreview, we discuss the implications of our findings regarding the molecular mechanism, more targeted treatment options as well as perspectives in the clinical care of CHF after hemorrhagic MI.